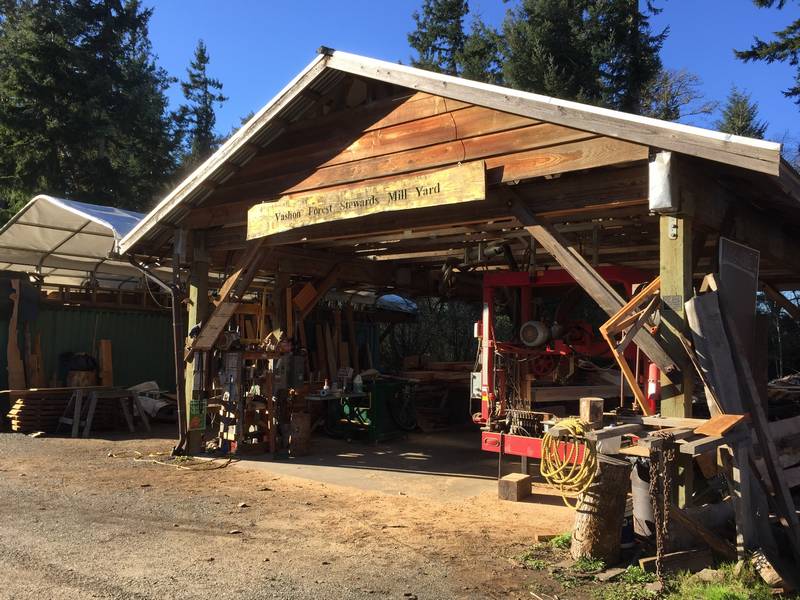 VFS processes some of the wood generated from stewardship operations into high-value products such as flooring, paneling, interior trim, posts and beams, and custom orders for local builders, artists, cabinet-makers and boat-builders. This wood is from Vashon, provides local jobs, and is mostly used by island residents. VFS feels strongly about wise resource use, local jobs, and minimizing environmental damage in the harvest, transportation, and processing of forest products.
Joel Kuperberg Memorial Mill Yard
The Joel Kuperberg Mill is named in honor of one of our founding board members who had the insight to know we would need a sawmill to fully realize our wholistic approach to forest stewardship. VFS has been producing sustainable lumber, milling boards and beams since our first big public project, Agren Park was thinned in 2004 and we decided to keep as many logs as possible on the island. It meant more material to mill and process locally, more added value jobs in the community and ultimately enriching the island economy.
The mill yard is centrally located on Vashon Island (corner of SW 188th and 103rd SW across the street from Sawbones). We fully process lumber here: first the green logs are milled into dimensional lumber; then the boards are 'stickered' and air-dried for months; then kiln-dried for a week or two and finally run through the molder-shaper and processed into finished lumber. From forest to floor, as the saying goes.
Species Processed
Vashon Island's forests are diverse in native species and provide numerous marketable products from them. The Island has significant amounts of Douglas-fir, red alder, big-leaf maple, Pacific madrone and western red cedar and we mill them all. We also mill limited amounts of other native trees such as black locust, cherry, yue and Garry oak, and even some more exotic hardwoods such as walnut (and black walnut), elm and sycamore.
Products and Services Available - Buying our Wood is a Great Way to Support VFS!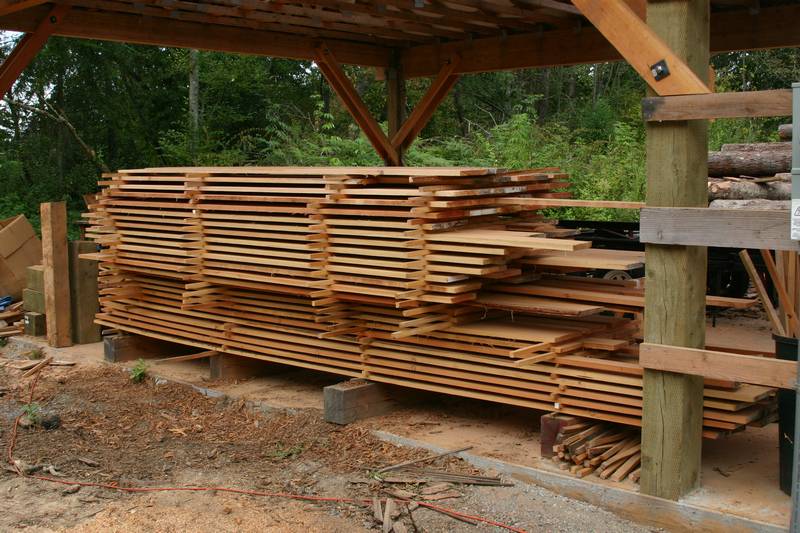 Green fir lumber stickered to air-dryOur wood is milled from second-growth trees, though we carefully select the logs we mill into what we call "Appearance Grade" lumber. This is wood to be enjoyed and appreciated within one's home, to be seen and touched - not buried inside walls. We can't compete with industrial produced 2x4 and 2x6 construction material. We do custom cut full 2" x 4" and full 2" x 6" lumber for old barns and historic buildings because that size is unique and generally unavailable from commercial lumber yards.
For that matter, we can cut standard and custom dimensions. We can custom process almost any lumber style including historic island profiles (such as drop siding which was used on old barns and buildings like those around Center - The Minglement and Fuller stores). We also mill live-edge hardwood slabs which are used primarily for furniture and VFS has a perpetual supply of mill scraps, sawdust and firewood at discount prices. VFS does custom mills, surfaces, shapes and kiln-dries other people's wood as well.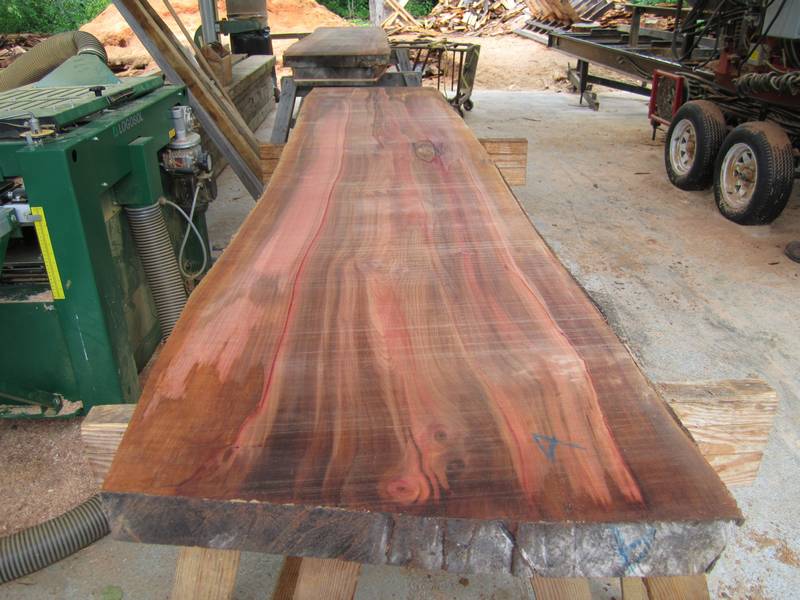 Fresh milled madrone slabMilling Rates:
Custom milling:.......................$75/ hour (plus blades if unusual wear and tear)
Kiln drying: ............................$0.50 cents per board foot
Custom planing/moulding:.........$50 - $100 set-up + $0.30/lineal foot

To find out more information or to get a quote please contact:
David Warren
General Manager
(206) 463-9405 (office)
(206) 295-6670 (cell)
david@vashonforeststewards.org