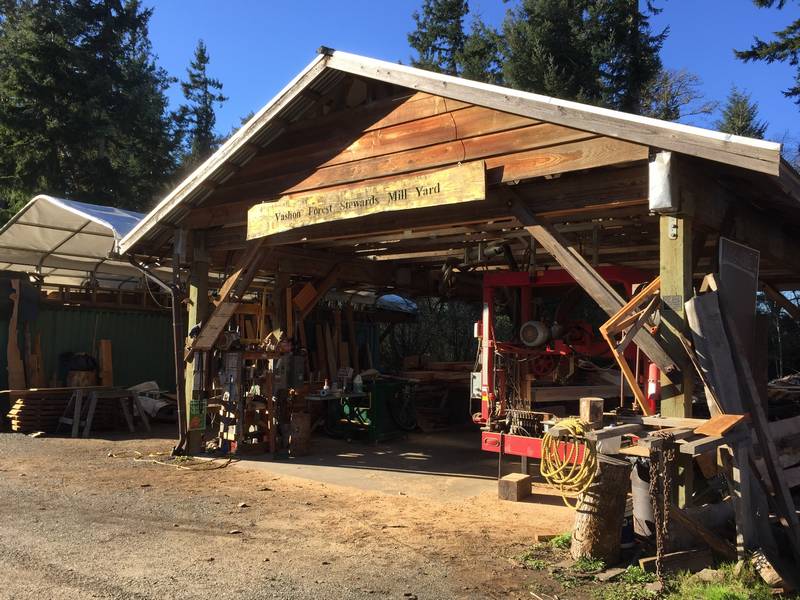 The original Forest Stewards Mill Yard near the "Bone Factory" closed in June, 2019. VFS is now in the process of opening a new yard on Beall Road SW immediately south of the Beall Greenhouses. We are currently open by appointment only. Call David to arrange a visit.
Joel Kuperberg Memorial Mill Yard
The Joel Kuperberg Mill was named in honor of one of our founding board members who had the insight to know we would need a sawmill to fully realize our wholistic approach to forest stewardship. VFS has been producing sustainable lumber, milling boards and beams since our first big public project, Agren Park was thinned in 2004 and we decided to keep as many logs as possible on the island. It meant more material to mill and process locally, more added value jobs in the community and ultimately enriching the island economy.
We fully processed lumber at this location: first the green logs were milled into dimensional lumber; then the boards were 'stickered' and air-dried for months; then kiln-dried for a week or two and finally run through the molder-shaper and processed into finished lumber. From forest to floor, as the saying goes.
Species Processed
Vashon Island's forests are diverse in native species and provide numerous marketable products from them. The Island has significant amounts of Douglas-fir, red alder, big-leaf maple, Pacific madrone and western red cedar and we mill them all. We also mill limited amounts of other native trees such as black locust, cherry, yue and Garry oak, and even some more exotic hardwoods such as walnut (and black walnut), elm and sycamore.
For more information, contact
David Warren
General Manager
(206) 463-9405 (office)
(206) 295-6670 (cell)
vashonforests@gmail.com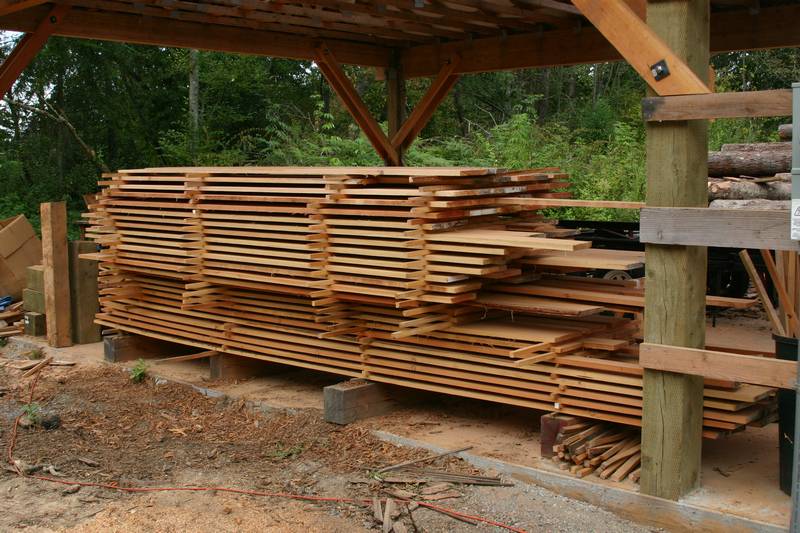 Green fir lumber stickered to air-dry